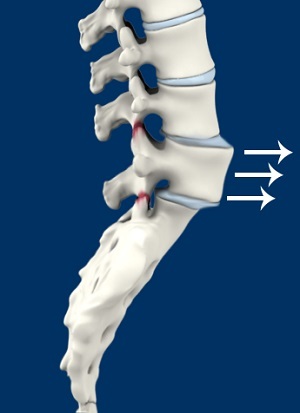 What is Spinal Instability?
Spinal instability refers to the condition of failure of the spinal column to maintain its normal structure. Normally, the spine functions to protect and provide support to the body and its internal organs. An unstable spine is incapable of holding various spinal structures such as spinal muscles, ligaments, bones, and discs in place. Mild spinal instability may resolve on its own, while a severe spinal instability may damage the spinal cord, nerve roots, and lead to spinal deformity.
Causes of Spinal Instability
Causes of spinal instability include:
Injury or trauma to the spinal column
Spinal degenerative disease
Tumor in the vertebrae, discs or ligaments
Congenital defects
Signs and symptoms of Spinal Instability
Signs and symptoms of spinal instability include:
Nerve irritation causing deep, severe pain starting from the back and radiating to the legs
Pain with prolonged standing or sitting
Painful muscle spasms
Numbness or weakness in the leg, foot or arms
Spine pain
Diagnosis of Spinal Instability
Your doctor may recommend a few laboratory tests to help diagnose spinal instability. These include:
Blood tests, blood cultures and C-reactive proteins for spinal infections
The rheumatoid factor for rheumatoid arthritis
Other lab tests for detecting spondylitis and multiple myeloma
Your doctor may also order imaging tests such as magnetic resonance imaging (MRI), X-rays, computed tomography (CT) scans, or a CT with myelography for the diagnosis of spinal abnormalities including displacements, nerve compressions, tumors or fractures. A bone density scan may be suggested to diagnose suspected osteoporosis. Your doctor may order electromyography to confirm nerve root compression.
Treatment of Spinal Instability
Treatment varies depending on the severity and cause of spinal instability. Pain and vertebral slippage in cases of mild spinal instability can be relieved with physical therapy. However, trauma to the spinal column or congenital instability requires surgical treatment.
Your surgeon may recommend the following surgical procedures depending on your condition.
Spinal fusion: Spinal lumbar fusion involves joining 2 or more vertebrae in the lower back region to relieve lower back and leg pain. Cervical fusion is indicated to relieve neck and arm pain. The procedure involves making an incision in the abdomen or back over the area to be fused and inserting bone graft to join the vertebrae to resolve the symptoms.
Spinal instrumentation: After the spinal fusion, your surgeon will fix various instruments to help stabilize the spine.
Kyphoplasty or Vertebroplasty: These procedures are used to treat the injured or collapsed vertebral column. During Kyphoplasty, your surgeon inflates a small balloon into the vertebral space to lift the vertebra. The space created is then filled with an acrylic mixture that hardens and stabilizes the vertebra. In vertebroplasty, the acrylic liquid mixture is injected into the vertebral fracture.